Quickly becoming one of our most popular choices is the 5 piece covers line-up.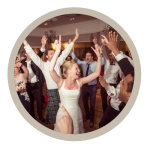 Clients opt for this when they want an authentic ceilidh band (not just a tacked-on ceilidh set, like most wedding bands do), but also a variety of classic tunes performed live, to cater to all tastes.
Here's a little bit more information about how we do our "covers" sets.
We have focussed our set list into a few broad categories, and selected songs which are suited to our singers and instruments. They're tried-and-true classic tunes that are great for dancing. Those listed below represent some of our typical sets.
---
Rock N Roll
Summer of '69
Proud Mary
Stuck In The Middle With You
Johnny B. Good
Twist & Shout
Sweet Home Alabama
Jailhouse Rock
You Never Can Tell
---
Disco/Funk/Soul
Superstition
Hard To Handle
Higher & Higher
Play That Funky Music
Long Train Running
Heard It Through The Grapevine
Stand By Me
---
Cheese
Nine To Five
Crazy Little Thing Called Love
A Little Respect
Brown Eyed Girl
I'm A Believer
Dance The Night Away
Wonderful Tonight
---
Scottish Classics
500 Miles*
Loch Lomond*
Pencil Full Of Lead
Dignity
Take Me Out
Caledonia
Auld Lang Syne
---
Pop/90s+/Modern
Shotgun
Wake Me Up
Shut Up And Dance
Valerie
Ho Hey
Chelsea Dagger
All These Things That I've Done
Thinking Out Loud
---
CUSTOMISE YOUR EVENING
Have a look at the different categories, and let us know if there are any that you definitely DO or DON'T want included, or if there are any single songs you especially want omitted.
HOW LONG IS A COVERS SET?
Each covers set lasts around 20-30 minutes.
WHY THIS WORKS
We find this approach allows the band enough flexibility to shape the covers sets according to how the evening is progressing, and how the audience is responding, while also giving you as the client some input into the overall styles and choices.
In the past, we gave a long list of the songs we've done, and then clients chose the songs they wanted – that meant redesigning the set list from scratch, with transitions, including songs that might not perfectly suit the singer etc… Once we know your general tastes and preferences, it's better for the band to have scope to shape the set according to how things are going on the dancefloor.
This way, we can ensure that we deliver the best show possible, every time.
WHAT IF I HAVE MULTIPLE SONG REQUESTS?
If you have very particular song choices that you'd like to hear, but which are not on the list, then we recommend including the DJ in the package you book – the ceilidh/covers/DJ combined package is hard to beat, and will really deliver a versatile solution and a memorable night for you and your guests.
If you have any further questions, don't hesitate to get in touch, we'll be happy to help!
(*We suggest keeping in one of these tunes as an ideal show-stopper!)