The Jiggers | Scottish Ceilidh Band
The Jiggers are a Scottish ceilidh band based in Glasgow & Edinburgh. Energetic and fun, fiddle-led and with a ceilidh dance caller and DJ, they play wedding ceilidhs and corporate entertainment events in Scotland and the UK.
If you are looking to hire one of the top ceilidh bands in Edinburgh, Glasgow and Scotland, you are in the right place! The Jiggers are a lively and fun Scottish Ceilidh band with a Ceilidh dance caller and DJ. You can hire the band for weddings and events anywhere in Scotland, the UK or even the world.
---
---
Hire a Ceilidh Band Based In Glasgow
Book the most in demand Ceilidh musicians for your party, event or wedding in Glasgow now. The Jiggers are an amazing collective of talented musicians who love what they do!
Lively, energetic and fun folk music for a uniquely Scottish night. Mix things up with a professional ceilidh wedding band for your evening entertainment and get guests up and dancing to a live music performance.
The Jiggers have been performing at weddings in Glasgow and Scotland since 2003, and have provided live entertainment at many of the top Scottish wedding venues around.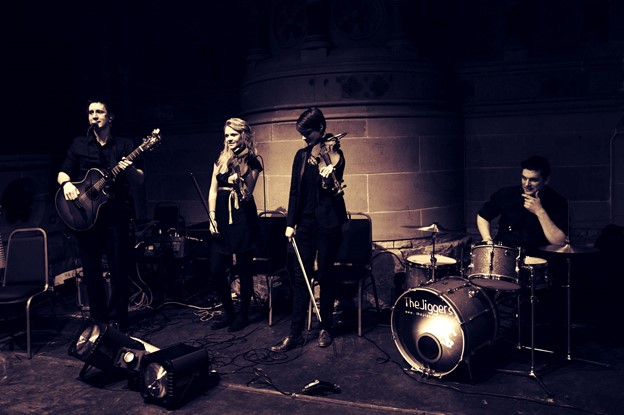 Traditional Scottish Ceilidh Bands For Weddings
Many couples planning a wedding party in Scotland are after a particular sound and style with their live music and entertainment.
When you imagine a 'traditional' ceilidh band, you most likely envisage an assortment of instruments including a fiddle, a caller and various choreographed dances throughout the night. This is exactly what The Jiggers do! Keeping it nice and informal, so your guests feel relaxed.
The Jiggers perform the more popular songs from Scottish and ceilidh traditions. Well known dances include The Gay Gordons, The Dashing White Sergeant, Strip The Willow, Virginia Reel, Eightsome Reel, The Military Two Step and many more.
Ceilidh has a rich history in Scotland but now, it's all about the dancing and the music! It is truly an amazing experience and guests are guaranteed to have a fantastic and lively night.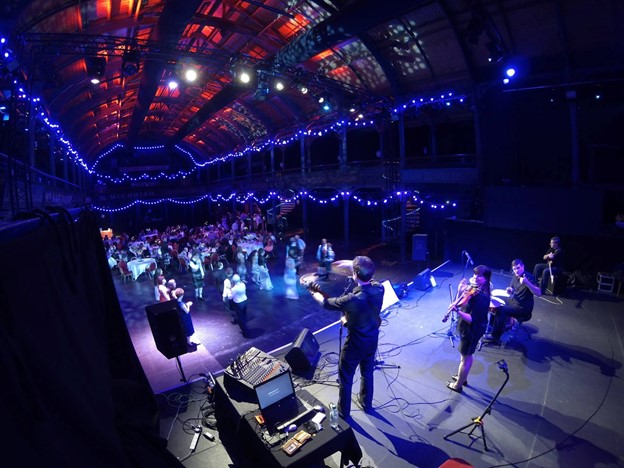 Ceilidh Band Edinburgh Hire
The Jiggers are an exciting and in demand Scottish ceilidh band based in Edinburgh.
Parties are taken to the next level with one the most experienced and dependable ceilidh bands for hire in Scotland. Whether you are after a fantastic ceilidh wedding band or a pop rock covers band, The Jiggers can do it all!
Hire The Jiggers today to ensure your event goes off without a hitch. The Jiggers have played their well known ceilidh tunes at countless weddings and parties in Scotland and know exactly how to get a dance floor bouncing.
If you want a ceilidh band that is approachable, friendly and reliable for your event, you can't go wrong with booking The Jiggers! Searching for the perfect Scottish ceilidh band based in your local area can be quite an arduous journey. It can be difficult to know what to look for in ceilidh bands and if they will be right for your event.
The Jiggers ceilidh band will always set the right atmosphere and tone. Their years of experience allows them to consistently put on an engaging show for people of all ages. Amazing live music from a top ceilidh band to that you just have to dance to!
Testimonials
Rebecca & Steven Siddall
Drymen, Buchanan Arms Hotel
We just wanted to you an email to say a massive thank you for playing at our wedding at the Buchanan Arms hotel, Drymen.
The band was amazing and ourselves and our guests loved the ceilidh and disco. We have had so many positive comments about the night and it was thanks to your amazing entertainment.
We can't thank or recommend you enough.
Rebecca & Steven Siddall
Emma & Mark
Perth, The Byre at Inchyra
Just a little note to say thank you for playing at our wedding at The Byre at Inchyra earlier in the year!
You were amazing and everyone had such fun, we had so many great comments.
Thanks again,
Emma and Mark
---
FAQ
What Is A Ceilidh Band?
Ceilidh is pronounced 'kay-lee' and its meaning comes from 'gathering'. Back in the day, ceilidh is where people would come together to sing, dance, read poems and generally socialise! Nowadays it is more about the tunes. They are sometimes referred to as Scottish bands or Irish bands and incorporate a real mix of folk to dance to.
What Instruments Are In Ceilidh Bands?
A ceilidh band can provide entertainment with a variety of instruments! Most commonly, a ceilidh band will feature a fiddle in their group. This leads the band and along with the caller, allows people to dance to the upbeat music.
A modern ceilidh band like The Jiggers/like ours may feature rock style instruments like drums, guitar and bass guitar. You may see a more traditional ceilidh band include a flute, accordion, tin whistle or bodhrán.
How Much Space Do You Need For A Ceilidh?
The Jiggers ceilidh band have played ceilidhs in many venues of different sizes and dance areas.
Of course, a spacious dance area is a wonderful thing to have, but you would be surprised at how little space is really needed for a proper ceilidh. If for any reason the dance area is limited, the band can ensure that things don't get too crowded by offering to play two 'rounds' of the dance. If there is no dancing space, The Jiggers can also supply a band to provide a less participation-based performance.
Will A Ceilidh Band Teach My Guests The Dances?
One of the best things about hiring a Scottish ceilidh band is that no previous experience is required to enjoy a fun and sociable evening of folk, barn dance and crowd interaction.
Led by a fiddle, you and your guests will be guided by a caller who is there to shout out the dance steps and explain how to take to the dance floor properly!
The atmosphere of a professional ceilidh band at a wedding can get "spirited", even raucous and is sure to put smiles on faces. The brilliant dances performed by guests really makes ceilidh something special for any wedding or event.
What Events Do Scottish Ceilidh Bands Perform At?
A ceilidh band can be hired for any occasion! Hogmanay, birthdays, weddings, corporate events and more. Depending on the event, good ceilidh bands will provide different options. For example, you may want a more traditional ceilidh band for parties. This could include a 3 piece, 4 piece or group of any size with a caller. You can barn dance and more to the upbeat ceilidh band melodies!
Ceilidh bands may also provide a disco DJ set and pop rock for a modern covers set. The Jiggers 5 piece option can sing rock covers and more, with a DJ disco taking over the entertainment after the bands performance.
Our Clients